Falabella It is one of the largest and most important retail stores, with hundreds of people shopping daily in both personal and online stores. Making an online purchase, although simple, can also present problems, such as canceling the purchase and not recovering the money. Are you in this situation? Here are some things you should know.
Falabella doesn't get my money back
When we shop at Falabella As the minutes go by, we receive an email confirming the purchase, which tells us that the purchase was actually made and that we were also charged. Once we have received the order details, we believe that the product will reach its destination, but this is not always the case.
Unfortunately Falabella He had various problems with the management and distribution of purchases, so many people filed complaints, either because the product did not arrive or because the purchase was canceled and the money was not returned.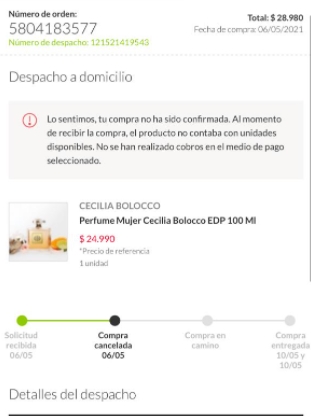 The worst case occurs when the order appears «delivered» and, in fact, was not, and also when you cancel a purchase that has not yet been sent and that they have not returned the money to our payment method that I used it. .
Falabella refund terms
What you should know if the purchase has been canceled but the money has not been refunded is as follows:
It is necessary to know the terms of the return, it will clearly depend on the means of payment you used, if it was CMR, the return is usually «immediate» and should not take more than 24 hours , if it was with any credit or debit card, the terms are extended and could last from 72 hours onwards (no more than 7 days).
Similarly, if you have questions or concerns or would prefer to resolve the issue directly with an executive, I invite you to contact them by phone or WhatsApp, in both cases it will help you resolve the issue or may provide you with the necessary information about your case, and solving it, they might even help you handle an application if needed.
Falabella canceled my purchase and my money was not refunded
600 380 5000
If they don't answer you, another alternative is to enter Falabella directly from a computer, at the top of the screen it will say: «phone sales», click there and «Amanda» will appear immediately, which is a chat which allows you to communicate directly and they will ask you for some information to solve your problems and can even arrange for an executive to contact you as soon as possible.
Do you have questions or complaints? Feel free to leave us a comment in the section below.