Although we have already spoken on other occasions about painting and varnishing wood, it is necessary to dedicate a special note Pine tree. Although it is a common wood, it has certain characteristics that require special treatment. It is also one of the most used in construction, as coatings and currently in the manufacture of furniture.
We will separate the two processes that can be performed on the pin. One is varnishing, where a certain type of varnish or transparent product is applied, not only to protect the wood, but also to invigorate its veins and colors. The other process is painting, where the wood is covered with a bit of colored enamel or acrylic paint, covering its original colors and veins.
Tips for varnishing pine wood
Pine is one of the most used forests for its resistance, its rustic finish and for being one of the most economical. But if not treated properly, it can be damaged by moisture, termites, worms, sunlight and dirt.
Choose the type of varnish depending on the surface or exposure of the wood
If you paint outdoors, use special varnishes for the exterior. I recommend marine or acrylic varnishes with UV filter, with satin or glossy finish. You can read the note on the types of wood varnishes.
In the open air, protect with impregnating agents
On exterior surfaces that are extremely exposed to the sun and water, use impregnation or lacquers. This material penetrates the fibers, protecting it from all harmful external agents and preventing the wood from drying out.
Use a clear primer or sealant only if necessary
Pine is a porous wood with excellent material absorption. Keep in mind that the higher the porosity, the more varnish you will need to apply. sealants, primers or fillers They are suitable depending on the type of varnish later and are often used to leave some special floors and furniture. It is not always necessary and should never be used before applying impregnators.
Tips when painting pine wood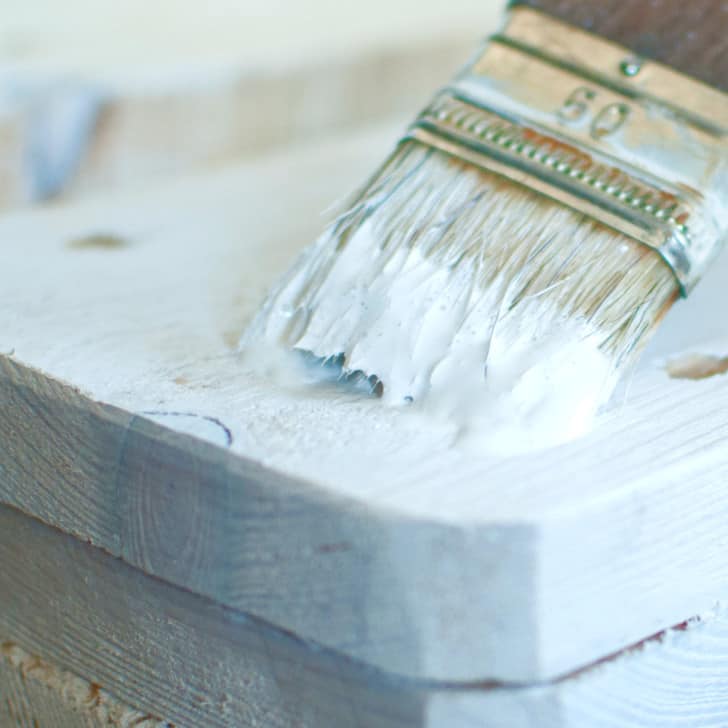 Pine furniture or any object made of this wood can be painted with almost any type of paint. Synthetic enamels, acrylics and even chalk paint are all suitable.
Choose the type of paint depending on where you are
Indispensable requirement: take into account the strength of the paint depending on where it is used. The stronger enamels are suitable for indoor and outdoor use. Matte finishes are best for interiors, just like chalk paint. Water-based or acrylic enamel has become an ideal paint for wooden surfaces.
Use wood primer or solvent primer
Pine is a wood that tends to deplete the tannins and is perceived in spots that appear once the wood has been painted. This is much more evident in the white or light colors, visible to the naked eye in some grains and knots of the wood. To avoid them, you only need a previous hand white background for wood, although the use of solvent-based primer (or white alcohol) gives good results.
You may also want to: