Brown is often overlooked for interior decoration because it is considered boring by some. However, it is not. Brown is the color of the earth, of growth, of life, of an owl's wing, and so on. It has depth and elegance and is as sensual as melted chocolate. For inspiration, consider this range of browns to paint the walls ranging from light to dark tones. All are beautiful and offer a feeling of calm and warmth.
You may also be interested in: Brown, a symbol of elegance and serenity
Brown range: mink color
Mink is an unusual dark gray brown that will add calm and elegance to a bedroom. This warm shade works great with a wide range of colors. Imagine with accents in white, green or light blue.
Candy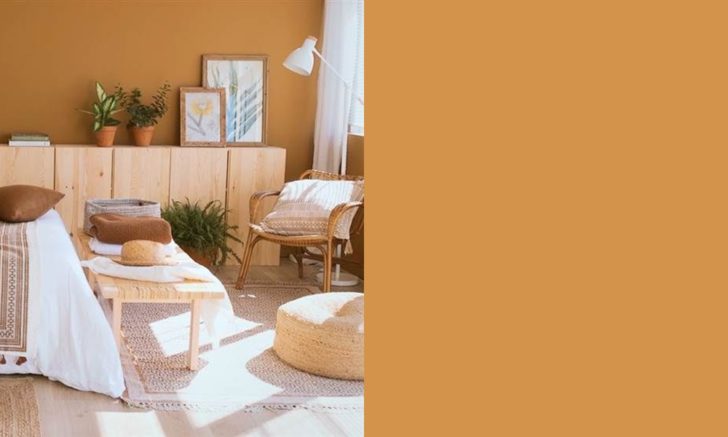 Its name says it all: rich and warm as a delicious caramel. It is dark enough to be used as an accent, but not dark enough to overwhelm the atmosphere. The caramel color is perfect to mix with marigolds earthy gold, oranges, greens, reds, light forests and deeper shades of brown.
Sand
A beach-inspired color palette it can turn your home into a relaxing getaway in cool tones. Painting the sand on the walls will give you flexibility in using green, turquoise or blue as accents.
Cinnamon
The brown color is elegant and ideal for use in any room, whether it is a living room or a bedroom. If you want to add more warmth to the environment, opt for white or cream details.
Coffee
The brown color is fresh and modern, bringing elegance and refinement. Believe it or not, there are many colors that can be combined with it, such as light blue and yellow. The latter removes his sobriety and seriousness from the brown and creates a harmonious and balanced space. Together with white and other shades of brown of lower intensity, they are perfect for a rustic style.
Beige
Beige is a cool shade that works with green, gray, black, silver, blue, bright pink and purple. Undoubtedly, it is an excellent choice if you want a neutral that is neither cold nor tasteless.
Linen
Flax is a soft color with no other shades: no yellow, no pink, no green, no blue. I do this simplicity and purity a neutral suitable for mixing with any color. Linen will give your bedroom a rustle of color without being intrusive.
Tobacco
And if by brown range I talked, I couldn't forget the tobacco. It is able to create a comfortable atmosphere, especially if combined with wood. Spatial for open, medium or dark forests.