As you have already seen, on this website you have the tools to locate your mobile phone in minutes. However, most users are not aware of all the real ways to locate a lost smartphone and, of course, have never installed a tracking app.
In any case, if in your case you have just lost the terminal and have not installed any tracking application, do not worry. You still have a choice locate a mobile phone without an application no previously installed program.
Free Google service
Although we've already discussed how to find your Google mobile phone for free on this page, we need to name this method because you don't need to install any apps to track your device.
The only thing, they must be met various requirements:
Your mobile phone must have an associated Gmail account
When you lose your mobile phone, you must have an internet connection (Wi-Fi or mobile data)
If your mobile is state-of-the-art, it will have the required Google permissions active by default for its location
It's simple, come on in https://www.google.com/android/find, enter your email address and password and you can see where it is.
To reach this portal you can also perform a search on Google «Where's my cell phone?«And if you're connected to your browser with that Gmail account, it will appear:
If your device does not have internet access, you will be able to see the last location where it was connected.
Install Android Lost remotely
Update notification: The Android API has recently changed, to enable Android Lost on your mobile phone remotely, you must have Android 3.0 or lower.
Requirements for this technique:
Your mobile phone has an associated Gmail account
It has an internet connection
They have installed version 3.0 at most
The technique involves remotely installing Android Lost on your mobile phone and activating the tracking feature via a message command on another phone.
How do I install an app on my mobile phone if you don't have one?
Very simple, you can install any application on your terminals through the Google Play portal of the PC browser. This way you can locate your mobile phone without an application previously installed because you are installing it remotely.
These would be the steps in detail:
Enter your computer and search the Google Play browser
Once inside, sign in with your Gmail account (the one you associated with your lost or stolen mobile phone)
Enter «Android Lost» in the search engine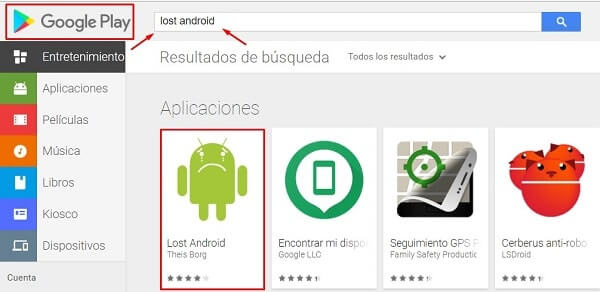 Once the application is found, click the install button
To register the terminal, send an SMS message from another mobile phone with the command «android lost registration«On your number
This way, the app will be registered in your Google Account
Go to www.androidlost.com and sign in with your account.
From the control panel you already have access to all these things:

See all messages
Play a loud alarm
See where your cell phone is via GPS satellite
Lock and delete data
Record photos to see who has your mobile phone
If you cannot access this control panel, wait a few minutes. Sometimes the registration process can take some time
Do you think this doesn't work?
Watch this true story of a father who uses this app to find and monitor the person who stole his daughter's mobile phone (the event is in English).
Google Timeline
This free Google service was called Location History, and in case you didn't know, Google keeps track of all the places you've visited using Google Maps.
What you need to use it for:
The mobile phone to track must have an associated Gmail account
internet access
Location History and Reports must have been turned on (Google settings may be enabled by default)
New update: Thanks to the improved GPS system, Google now shows you all the places you've been in your timeline.
From bars, cafes to companies, you can see the place names on Google Maps. Before, you only saw dots along the map, but the detailed information did not appear in full. Follow this reading to see how it works.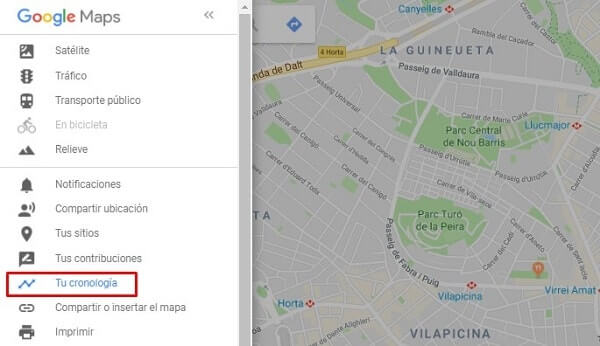 This service is very similar to the Google Device Manager already mentioned, but with this difference:
The first one is designed to locate your mobile phone and send you various commands
The timeline was not created to locate the devices, it is used to see the routes you have taken, a night road, a place that has seen a certain date, etc.
But it is also an option to see the places where your phone was stolen.
Steps to follow:
Go to Google Maps and click History (location history)
Select the days after you lose the terminal
View all locations in the locations that your device has registered (including names)
Locate on the map to know where they are
Timeline technology uses a dashboard and detects all Wi-Fi information associated with your mobile phone.
Logically, to see the latest locations, your phone must have a battery. Once you see those places, you can go to the police and show them on the map.
If you combine this method with the previous ones, much better, so you will have a better idea about the location of the lost, stolen or moved cell and you will be able to locate it without applications.
Samsung service
What do you need?
Mobile phone connected to the internet
You have a Samsung account registered in your terminal.
Obviously, your mobile phone must be a Samsung model
Find the configuration of my mobile service with active remote control
In case you didn't know and this method seems strange to you, take a look at this article in which we explain in detail how to locate a Samsung mobile phone with Find my Mobile.
If you meet these requirements, what you need to do is:
Search the web portal https://findmymobile.samsung.com/
Enter your ID (registered email address) and password
In the left pane, use «Locate my device»
Click Find
You will see the exact location on a map
You can also use all commands to communicate with your smartphone
I included this method because you really can locate your mobile phone without apps, although you must have made a previous registration.
Google Photos
What do you need?
Mobile phone connected to the internet
You have Google Photos enabled, which says «Backup and sync»
The person who has your phone takes one or more photos
When you have active backup, Google Photos sends every recorded photo to a virtual account. Okay, maybe you're thinking …
Great, the thief takes pictures with my cell phone, I see the pictures, but I don't recognize the place
Yes, but in each photo file appears the exact geolocated location, meaning you will see exactly where the photo was taken. So, you would have addresses where your mobile phone was again.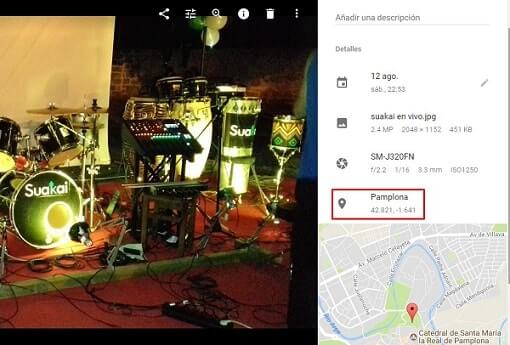 Steps:
Enter https://photos.google.com/ from your browser and sign in with your Google Account
View the last recorded images and click on the image
Press the button in the right corner to see the coordinates
Use Dropbox
Required requirements:
Telephone with internet access
You have the Dropbox app installed
You have the «upload from camera» option Dropbox
The person who has your mobile phone must take photos
This is the last technique that exists to track a cell phone without an app installed, so if you meet the above requirements, it can give you one last chance if all of the above techniques don't work for you.
The method is similar to Google Photos, with the difference that you will only be able to see the photos taken, but not the location.
What good is it to see only images without coordinates?
Well, if the thief takes selfies or a familiar area appears, you can go directly to the police. It's not a big deal, but who knows, if the photos are a few moments after losing your mobile phone, it can help you recover it.
Today, Dropbox does not have access to the IP of mobile phones, although in the future it may have this service active.
conclusion
We hope all these techniques to locate a mobile phone without an application It helps you to recover your smartphone without any difficulties.
If you happen to find her by an address, it is always advisable to go to the police. Otherwise he would have taken unnecessary risks only for one terminal.
However, we encourage you to see our extensive guide on how to locate a cell phone with GPS in case you haven't tried all forms of location. Good luck and you can recover your mobile device safely and healthily!