If the lost or stolen mobile phone is an iPhone, there are other options that iOS developers offer to locate the iPhone mobile phone.
In this guide you will learn how to how to track an iphone cell phone with the official instrument and 3 alternative methods to complete the search and retrieve your terminal.
Note: the tutorial we display works for any iOS device, both iPhone, iPad and Mac.
Find my iPhone on your computer with iCloud
Basic requirement:
The «Find my iPhone» option must be active in your terminal
When selected, the iPhone locator is activated automatically
The application «Search on Iphone«It's the official iOS. This app is for track your iPhone, but you don't have to install it.
This service is in the Apple cloud, so the app is an introductory way to use the tool and locate your iPhone. But it is not the only way, because, as I mentioned, it is a service with full access from the cloud.
To access iCloud you only need:
A browser
Information to sign in with your Apple ID
Even if the thief tries to disconnect your terminal from the iCloud cloud, delete internal data, or disable the «Find my iPhone» feature, he or she may not be able to do so.
To do this, you must have an updated version of iOS 7 or later. There is an activation lock tool, so no one can use your mobile phone.
Here are the steps for locating an iPhone mobile phone:
Go to iCloud and Find My iPhone
We will guide you step by step:
Enter the official website https://www.icloud.com/
Log in with your credentials (the ones you use in the App Store)
If a window appears asking you to authenticate with the 2-step session, no problem, you don't need it at all
In the panel, look for the «Find my iPhone» option at the bottom
Select it and you will access the map «Find my iPhone»
Select the stolen iPhone mobile phone
Now it's your turn to look for the iPhone mobile phone:
Once in the application panel, select «All my devices»
Choose your lost, stolen or lost cell phone
You'll see how the device tracking process begins
If all goes well, you'll see your iPhone on the map
Send orders to your mobile phone (explained below)
It emits sound
Like other tools, such as where my device is, the option to sound remotely activates an alarm on your mobile phone to deter the thief and / or find your terminal (especially if it's near of your position), in addition to helping you locate your iPhone by GPS due to the sound.
Lost way
This feature creates a lock on your terminal with a password that you should have set before. When the cellular device locks, a message (also customized) and a cellular number appear.
This way, the person who found your iPhone or iPad can contact your phone (you can put that of a family member, partner or friend) and return it to you.
The strongest thing about lost mode is that the location service is turned on, even if they have been turned off. This way you can track your iPhone, iPad or Mac mobile phone.
Wipe iPhone
With this command, all internal data on your mobile phone is deleted. Please note that this is the last option, because if you enable it, the «Find my iPhone cell phone» function will not work.
Remember that for these options to work properly:
Your iOS device must be turned on
You must have an internet connection
If there is no mobile data or Wi-Fi connection, these functions cannot be used
When you reconnect to the internet, everything you select will be activated
Video tutorial on locating an iPhone
Alternative 1: Tracking iOS apps
Requirements:
For tracking applications to work, they must have been previously installed
Device with internet connection
Lit for communication
As we have already explained in the article on mobile phone tracking, tracking apps are created by developers outside the official Android and iOS brands.
In any case, they are very useful if they have been installed and configured correctly before losing or losing your mobile phone. In this case, they will also help you know how to locate a stolen iPhone and track it in real time:
Anti-theft loot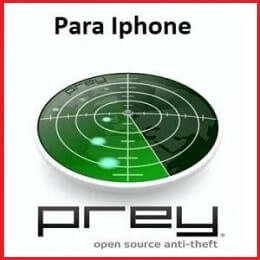 On the App Store market, Prey Anti Theft is considered one of the most complete applications for tracking iOS devices. With it you can:
Search for your iPhone and find it on a geolocated map
Activate the cameras (rear and front) to take photos
Alarm at maximum volume
Search iPhone by IMEI
Locate devices at no cost (the first 3 devices are free)
Download Prey for iOS
Lookout Mobile Security
Another of the most distinguished applications that exist. It has several functions and, of course, is compatible with iOS devices. It has many downloads and a very positive rating from users who have tried it.
The main function is locate your iPhone mobile phone via GPS, but also allows you to:
View the exact location of your lost iPhone in an image via an automatic email
System protection with antivirus included
Create backups of all internal data
Protect your device before and after you get lost
Warns you of dangerous Wi-Fi connections
It's totally free
Alternative 2: Google Timeline
Requirements:
Apple location report enabled
Location history is also active
Today, large companies want to know as much information as possible about their users. Giants Google and Apple need to know the data from each person to improve marketing processes.
One of the things they also know is the location and, although it may seem like a loss of privacy, in this case it can be useful.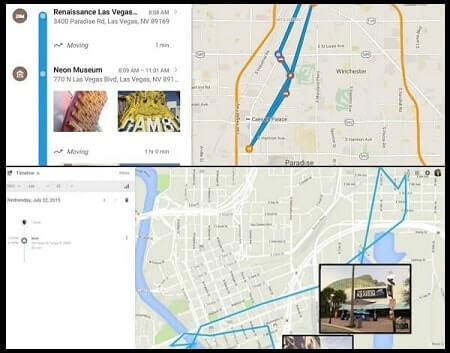 The Google Timeline feature (formerly called Location History) collects all the locations where your iPhone has been. It shows you on a map all the places you've been and, of course, if you want locate the iPhone of the mobile phone turned off, you will be able to see the last site where your phone had an internet connection.
In the unlikely event that your iPhone is still connected to a mobile or Wi-Fi network, you'll still see – like a detective – all the locations that Google reports from your terminal.
Here are the steps:
Enter https://www.google.com/maps/timeline in your browser
Click on the button above that says «Today»
On the timeline, check where the last location was recorded
Check the points that appear on the map, which places have been frequented
Is the cell phone still moving or is it still?
If it is stopped, you can go and pick it up
If you move, go directly to the police and explain the situation (they already know this type of iPhone or Android cell phone tracking tools)
Alternative 3: Google Photos
Requirements:
You have Google Photos installed with «automatic photo upload» enabled
You have active «location sharing»
Mobile phone connected to the internet (wifi or data)
The technique is simple, every time a photo is taken from your device, it will be uploaded to your Google Photo account. It is very likely that the thief does not know this function, so if you take photos you can see the exact location where they were taken.
All you have to do is enter https://photos.google.com/ and sign in to Google with your email address and password. If you see new photos, go to them and see the location in detail.
The iOS app is very similar to the option to locate your Samsung mobile phone with Find my mobile, except that it doesn't have such an advanced control panel to send commands.
We hope that all these techniques for locating an iPhone mobile phone have helped you and you can recover your precious iOS device. If you've thought about it, it's possible search for iPhone by IMEI but through the operator you hired.