Technology is advancing by leaps and bounds when it comes to Android or iOS. However, one of the shortcomings still unresolved when using a smartphone is the amount of memory available.
Although new smartphones have more space and we can add a micro SD to our phone to expand memory, we will always need more capacity because the applications are heavier because they have more features.
Worst of all, it's not that you run out of space for your favorite apps, which is crazy when your phone tends to slow down.
Here are the typical questions:
How do I have space on my mobile phone?
How to free mobile phone memory?
How to free up space on Android internal storage?
Here are some ways to do this:
Clear the cache
Each of your mobile applications generates caches. In short, the cache would be small remnants that will help your mobile to connect faster to the application.
For example, if we talk about Facebook, this application generates cache files every time you see an image, so that when you see it again, it loads much faster. However, this loses a lot of space. Here's how to clear your cache:
Android
Go to settings > Application Manager and access the desired application
Click the button Clear the cache
ios
Go to Settings> General> iPhone Storage
Check what applications they have more than 500 MB in Documents and Data. It is recommended to use them to free up mobile phone memory. Be sure to back up your application information
Click on Remove the application and then reinstall the same thing when the uninstall process is complete
Clearing an application's cache can cause some temporary data to be lost from memory. Be sure to back up your data.
Delete unnecessary files and download data
One of the things that smartphone users don't usually do is not delete downloaded files. We can take advantage of this to our advantage to free up mobile space. Let's see how:
Android
Go to Settings> Storage> Downloads
Delete each of the files that you no longer intend to use
Depending on your version of Android, you may have a space-clearing feature in which your phone automatically cleans unnecessary space.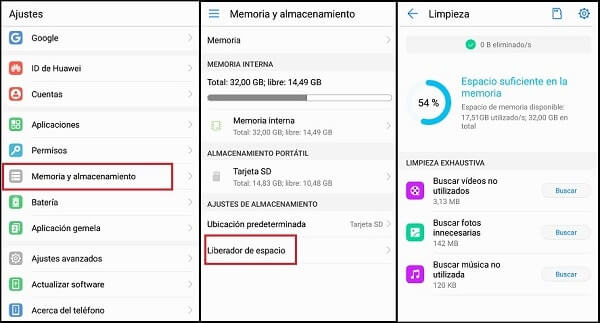 ios
Go to settings > general > Storage
Delete the downloaded applications that you want to uninstall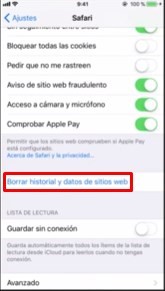 If you use your browser frequently, one of the most practical ways to free up memory on your mobile phone is delete history of the same. Here's how to do it:
Android
Go to the application in question and then its settings
Look for the section in Set > Navigation history > Delete history and data
ios
Go to settings > Safari > Delete website history and data
Remove duplicates
If you are using a state-of-the-art mobile model, you may need to disable it HDR module, because it keeps a copy of every photo taken. To do this on Android, follow these steps:
Go to Set > Photos > camera
Uncheck the option Keep the photo
Send applications to microSD
A quick and easy way to empty your internal storage is move applications from internal memory to microSD. This procedure is not available for all Google Play devices or applications.
Here's how to free up memory with this technique:
Go to Settings> Application manager
Find the application of the cell you want to move to the microSD
Enter the application area and click Move to memory card
For applications that cannot be moved to SD using this method, you can use Link2SD for free to perform the process.
Uninstall what you are not using
Sometimes we install many applications, so many that in the end we do not use them. If this is your case, you can take advantage and empty a considerable amount of space.
Android
Go to settings >Application Manager
From here, select the application to remove and then tap REMOVE
ios
Go to settings > General> iPhone Storage
Select the application you want to remove and then tap Remove the application
Delete application data
Each application generates certain data. For example, Facebook saves your login details or images for your profile to upload it faster.
Deleting this data can help free up storage on Android, however, this technique does not work on iOS. We explain the method:
Go to Settings> Application manager
Select the desired application and click Delete the data
After this process, the application will be just as new, so you will need to log in again if necessary.
Back up your data in the cloud
The easiest way to free up cell memory is back up your data in the cloud and delete what you have on your mobile phone. There are a variety of free applications that allow you to back up your data in the cloud.
Photos, music, and other files you have on your mobile phone can be saved in the cloud and can save a few GB.
To do this, you can use some applications, such as:
Google Photos: The basic application for backing up photos in the cloud. Many mobile phones bring it by default and offer us in total 15 GB in your free plan for every Google Account.
Google Drive: This application allows you to back up any type of file in the cloud and share it with third parties.
A unit: The official Microsoft application for saving files in the cloud. It has 15 GB on your free plan.
Alternative methods to free up space on your mobile phone
In addition to the common methods outlined above, here are some free apps to free up mobile space in seconds:
Google Files Go
This application from Google allows us to manage our files on our mobile phone in a simple and practical way. In this way, we can free up internal and external storage from Android.
We can delete duplicates and also perform many other functions. It is currently only available for Android.
Download Files Go for Android
SD Maid
Again, another app available for Android. It allows us to free memory and move applications quickly and conveniently.
It has a free version and a premium version that offers us very interesting features. The good thing is that the price is only $ 3.44 from Google Play.
Download SD Maid for Android
Now that you know how to free up space on your mobile phone What are you waiting for to start doing it? Always remember to back up your important files before making changes on your mobile.