Surely, several times you wanted to know how to call with the hidden numberIn fact, making a hidden call through a private number can be done as a precaution or joke.
When you activate this mode, You're preventing someone from identifying you And they won't be able to return your calls because they won't have a record of your phone number.
Here are the steps to know how to hide your number and remain anonymous without being discovered.
Hidden call from mobile
You have 3 ways to know how to call a hidden number on your mobile phone:
1.- Activation from your terminal.
Almost all smartphones Android you have this option available, here are the steps:
Enter the phone symbol
In the upper right corner, click Which add > settings
Scroll down to the tab Call settings > More settings
get in Show me the caller ID
Select the option Hide the number > To accept
On the iPhone it is exactly the same, look directly for the ID and there you will find the option
Once this option is selected, what you do is hide all calls which you do, that is, from a private number.
2.- Request hidden calls to your telephone company
It's supposed to be a right you have as a customer, although you'll have to fight it, because the average customer doesn't usually ask to always be able to call a private number.
If you succeed, if you want to reverse the process, remove the hidden phone, contact them again.
3.- The classic prefix # 31 # hidden
How to call with a hidden number on your mobile using a simple command? All you have to do is dial command # 31 # and then the number you want to call hidden.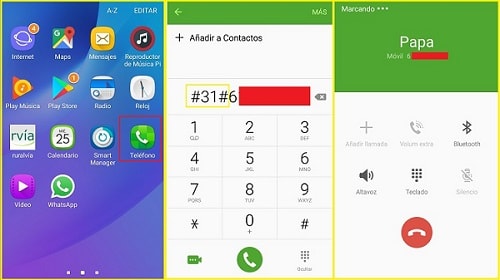 Because each company has its own rules and regulations, we explain the hidden call in several famous companies:
How to call with a hidden number in Yoigo
Yoigo is one of the fastest growing companies. If you like call a private number you will need to contact them continuously and request the service.
Even if you use the prefix # 31 # hidden, the phone will continue to make normal calls depending on the terminal model, so you can get in touch for free.
Yoigo customer service phone: 622
From the Yoigo website it is true that it is said that you can, but it will depend on your device: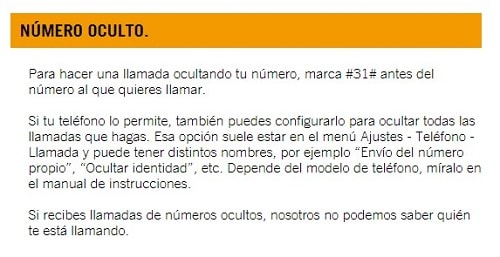 How to make a hidden Vodafone call
If you want to make your Vodafone number private, just use the command I mentioned earlier, but it will only be useful for specific calls.
If you really want to call permanently hidden, you need to follow these steps:
Enter your private area
Access the phone found in the tab My products
In the top menu select Options and Settings
Click the drop-down menu that says Dialing options
Check the option Hide your number
This way, your number will be invisible when you call your Vodafone operator.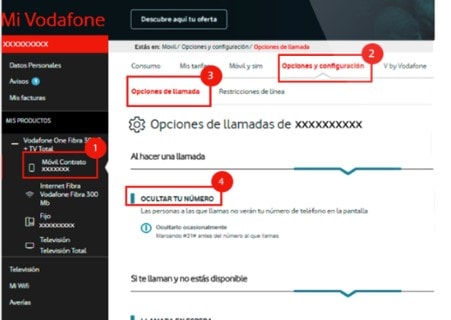 You can also contact them on your mobile to enable this option:
If you are calling from a Vodafone phone: 123
From another phone: 607123000
Call with a hidden number from Movistar
You can camouflage calls made from Movistar in three ways:
You hide the line halfway: The operator hides all calls made from you except those where you want your identity to appear.
For all calls that you do NOT want to hide your phone number, you must enter the area code * 31 # from mobile and * 67 # from a landline.
Be careful not to confuse it with the prefix that I have repeated over and over again, in which case the first symbol is an asterisk.
.Manual control
: Classic, our data always appears when we call, unless we dial # 31 # on mobile. Always hidden number:
how to make a hidden call from Movistar
To contact Movistar and activate the hidden number, you can do so in two ways:
Customer service chat Dialing the number
1004
The service is free and activation or deactivation is processed instantly.
How to call with a private number from Orange
Orange also allows you to hide the toll-free number and offers two types of privacy, either temporary or permanent.
Please note that if you want to enter a hidden number in the sent SMS, you will not be able to do so. In this video, the Orange operator explains it perfectly in a very visual way:
Call the hidden number on the landline
If you are interested in calling secretly from your landline, you simply need to put this prefix before dialing the number you want to call:
Whether you call a landline or a mobile phone, your number will not appear, so you will have a private landline number.
The good thing is that this prefix is ​​the same for all companies, but only on the landline. In fact, when we receive an anonymous call from a landline, we try to look up the landline number in some way.
How to find a private number
This is the unknown sea that many users ask. Is there a trick to finding a hidden number?
We often receive calls in stealth mode to make jokes or phone spam from senders that we don't trust. The good news is that you may find out an unknown number with specialized applications.
How to know a private number with these applications is an easy task, in fact, the success is almost 100% of the cases, thus obtaining the identity of the issuer. Truecaller: With over 7 million ratings on Google Play, this app allows you how to know who is calling you in private
Immediate.
It can also:
Block spam messages
Custom filter
View the number of strangers in history
Create backups
Identify unknown and telemarketing SMS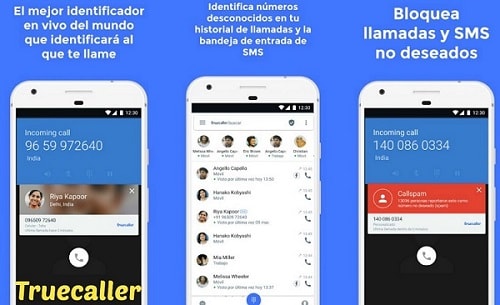 how to call with a private number with truecaller
TrapCall: With this application you can find hidden numbers and has other very interesting features:
Creating the SPAM list
You will see the name and face of the issuer
Record calls in seconds, very useful if you want to collect threats, ghost offers, etc.
Convert voice messages to plain text
The only downside to this app is the price, it's not free, it costs about $ 5 a month, but depending on the level of SPAM you receive it can help. Du Caller: It is also considered one of the best caller identification applications. It works similarly to the previous ones, you can identify the hidden number
and partial / total blocking of incoming calls.
It also allows you to record calls, block SMS and smart dial. It also has a location function for a mobile phone, although it is not as accurate as other specialized applications.
It is useful for this type of SPAM calls:
Gambling promotions
Phone harassment
Loan offer
Insurance
polls
Heavy phone calls from operators
How to block hidden numbers
These applications already incorporate the function of blocking calls with a hidden number, but the devices themselves have the option to do so without installing anything.
As Android and iOS are the most famous operating systems, these are the procedures for blocking private numbers:
Block calls with Android private number
The process of blocking Android numbers is very simple, almost all new versions have it by default. Here are the steps to follow, although they may vary by model:
Access Call settings from the main menu or by clicking Phone
Tap the «Block calls» option
Go to «Blocked numbers»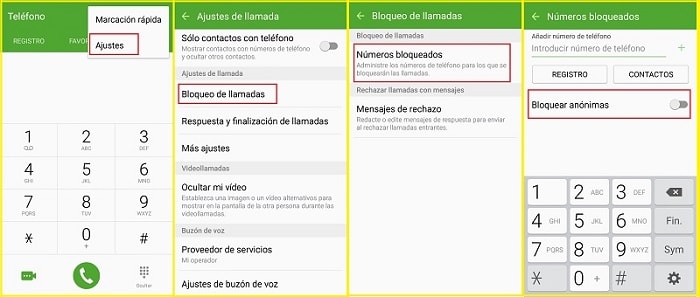 block hidden Android number calls
This way, all hidden calls are blocked, although blocked numbers can be added. In most models, it also allows you to configure onerejection message
, serves to send the sender any excuse or personalized text.
Locks hidden Iphone numbers
The iOS operating system also has features to easily block hidden calls. Here are the steps: visit
settings Choose the option
Not disturb You can check the tab
Manual Choose Allow calls and
All contacts The only problem is that all the people you haveyour contact card will be able to call you
Although normally what interests you is blocking anonymous calls from people you don't know, unless it's a joke from someone you know.
Cases where the hidden number is displayed
You will not always be able to call with a hidden number, as there may be serious situations. Even when you dial the prefix, the number will appear on the handset.
Here are some of those services that cancel the private number: Emergencies:
112 Policeman:
091 Civil Guard:
062 Firefighters: 080 or
085 Medical emergency:
061 Citizens' attention:
060 Civil protection:
1006 Anyway, now you know all the possible ways to call with a hidden number and block your mobile phone from anonymous incoming calls. We recommend this protect your privacy
as soon as you doubt a number.
A good option is to look up that number in quotes on Google to see if other users have already reported that phone, the police can also help you if you receive threats or any phone crime.