Did you lose or steal your mobile phone and is it Samsung? Then you're in luck because Samsung offers a completely free service for locate a Samsung mobile phone of any model.
It doesn't matter if your mobile phone is a J3, J5, S5 or S7, they all have this service enabled, and most users who have tried it say it's even better than the service of finding my device via Gmail.
The Samsung tracking tool is called Find my cell phone and in this article we explain how it works in detail.
How it works Finding my mobile
Although the service is free, you need to meet several requirements to use the tool provided by Samsung, and one of them is to have a Samsung account active.
Here are the steps for tracking a Samsung mobile phone:
Go to https://findmymobile.samsung.com/
Select the blue button connection
Enter your Samsung account ID and password
Enter the panel and use the option locate your Samsung mobile phone
You can also enter the «Search for my mobile phone» service from another device
If you don't have a Samsung account yet, don't worry, we'll explain the registration process right now
Samsung video tutorial
This video shows how the GPS location, deletion, call and backup feature of your mobile phone works perfectly from the control panel with an account already registered.
Registration (Samsung ID creation)
You have the option to register from the official website or from a mobile phone. The procedure is quite similar.
Create a web account
The first thing you need to do is access the web https://findmymobile.samsung.com/
Click the button Login
Select the link that says «Sign up here«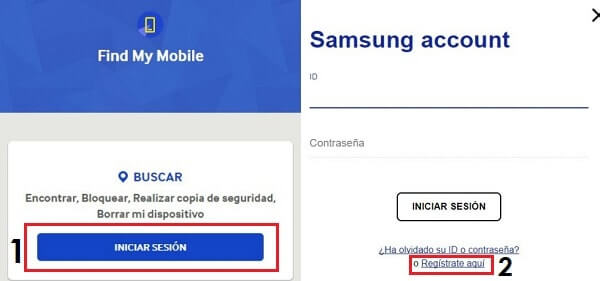 Accept the general terms and conditions box
On the next screen, fill in the personal fields
Once you've completed your registrations and clicked again, you'll receive a confirmation email with your active ID
Create a mobile phone account
You have the option to create a Samsung account from a mobile device. The process is very similar to all models:
Go to Settings
Look for the «Screen lock and security» button (you may not have the exact same image as a widget)
Tap the «Find my mobile or cell phone» feature
Click the + button to add an account

You can create an account with a basic registration or a Google ID
Fill in the fields: The ID is the email address (you can also use Facebook for quick filling)
Confirm welcome from Samsung
You will receive an email confirming the creation of your account.
Few people know about these options that were included by default when buying a mobile phone, so it's important to set up your account as soon as possible.
The main functions are Samsung
Once you've actively registered your new Samsung account, you can use all of these features to communicate with your mobile phone and activate the feature look for my Samsung.
Locate your Samsung mobile phone
Perhaps it is the most important option of all track your Samsung mobile phone and locate it on a map due to geolocation. To do this, simply go to the FInd my Mobile website and click on «locate my device».
You will see in real time the exact location of your mobile phone
All locations of your mobile phone in the last 12 hours
Like Google, your mobile phone must have GPS enabled, which is the location option.
Device lock
Thanks to this option you can protect your terminal and avoid scaring bills, private photos, bank details or any other type of information.
You also have the option of send a personalized message for the person who owns your device to read it.
The good thing about this option is selective blocking. You can configure that when you lock your mobile phone remotely, the person who has it can only call a certain number. You can indicate that phone number as «call if you find this mobile phone» and it can be from any family member or friend.
Remote call
From the Find my mobile control panel, you can make a maximum volume call to your mobile phone.

Simply use the «call my mobile phone» option and a one-minute alarm will be activated, whether the mobile phone is silent or vibrating.
Call Log
This tool is very interesting because it allows you view all calls which were made from the mobile phone. Why might it be useful if you have lost your Samsung mobile phone?
Because you'll see if the thief made calls and you'll have access to those numbers. In addition, unanswered calls will also be saved.
You do not need an active GPS location to use this service
Call forwarding
If you need to receive important calls, you can use call forwarding so that all calls made to your lost mobile phone are diverted to another device.
Delete completely
Like other tracking tools, with this free Samsung service you can erase all data on your SIM card and SD card.
So you no longer have to worry about privacy and data theft. If you want to delete saved emails, personal and social accounts, and all records, enable factory reset to leave your phone completely empty.
Frequently asked questions about how to track a Samsung
I forgot my unlock pattern / PIN / password for my mobile phone. Can I unlock it anyway?
If possible. From the general panel of «Find my phone» activate the function «Unlock my device», access this complete tutorial on how to unlock a mobile phone with a security model with various techniques.
Can I use Find my mobile to locate my Samsung mobile phone if GPS is off (location is off)?
Yes, all you have to do is activate Remote GPS to track your Galaxy device so that the service determines your approximate location with mobile network areas and Wi-Fi connections.
Can I find out if someone changes my mobile phone's SIM?
Yes, when a SIM change occurs, Samsung will inform you via a message from the web control panel or you also have the option to be notified with an SMS on a mobile phone of your choice.
If you want to enable this option, you need to enable the «SIM change alert» feature on the Security tab. You can use the * # 62 # command to find out if your phone is touched and to report to the authorities.
We hope that this tutorial on how to locate a Samsung mobile phone with its free «Find my mobile phone» service has helped you. You can now track your Samsung mobile phone in seconds.