Think about this: the painting should show the personality of the house, as well as that of your family. And it should also be traditional enough to make it look beautiful and unique. Take a look at these attractions combinations to paint your house outside!
1. Chocolate and white
The color of chocolate is dark enough to remain timeless, but less harsh to the eyes than dark. The chocolate is uniform economical and comfortable and looks wonderful accompanied by creamy whites and soft greens.
2. Light blue and white
The blue of the sky is a cheerful color, but at the same time relaxing and serene. Everyone loves blue. It is reminiscent of the sky and the ocean and balances emotions with a calming effect. Categorical, paint your house the color of the sky combined with white and chocolate, it will cheer up the neighborhood.
3. Navy blue, white and gray
Navy blue would look perfect on the outside of an oceanfront home. Combine it with white and gray for a more lively and traditional look.
4. Green and white
When you have a beautiful house in the woods, you will want an exterior paint color that matches the surroundings. Paint the facade of your house green It will be an excellent option because it works in harmony with the trees. The stone and white accents make this house look warm and charming.
5. Red, white and beige
The bold red color adds vibration to the house and attracts all the attention of the neighborhood. To make it look more harmonious, it was combined with white and beige.
6. Red, white and black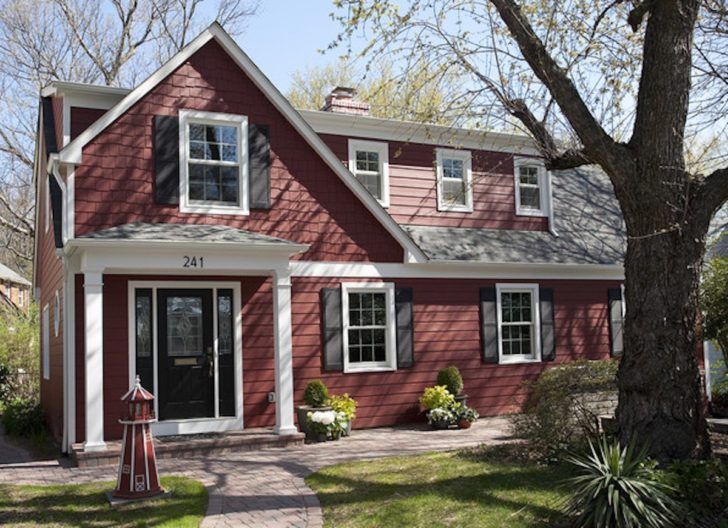 Red is a classic color. Black accents, such as the door and shutters, look good when paired with white trim.
7. Green, sand and burgundy
The combination of these three colors is ideal for one Victorian style house. The bold color scheme gives this house a dramatic yet warm look.
8. Gray and teal
You still can get a modern look without using shocking shades. Here the gray, the wood, the natural stones and the green door, give a modern note to the house. This combination looks warm and comfortable.
9. Black and white
Black and white never go out of style. Whether you have an old house or a new constriction, both colors will always look fresh.
10. Yellow and blue
A double dose of primary colors could be very bold to paint your home on the outside. However, when executed delicately, they are a real charm. Here soft blue and yellow create a picturesque look.
11. Brown and sand
The sandy color at the top resembles the tones of neighboring houses. In turn, brown is a good complement that provides a strong visual base. Red window frames add extra color,
12. Taupe, red and white
The white columns retain the charm of this old house, but red and red add a 21st century note.