I had a few customers at the time decorate the children's room for their children had in mind to install some vinyl. But when they chose one, they had many doubts. Where do we put it? Which?
It's normal, there are thousands of beautiful wall stickers and it can be overwhelming to choose just one.
Finally, for some details or others, I end up guiding you to find the perfect vinyl.
And this we will see below: 10 ideas that work very well to decorate children's bedrooms with vinyls for children.
We start and I will tell you and I will show you locations, ideas and some very interesting vinyls for children.
On the wall of the headboard
Decorative vinyl from the Teleadhesive store
One of the first locations I advise, whenever possible, is on the wall at the headboard.
This location for installing a vinyl is a safe bet. It presides over the bed with charm and gives the whole set a very suitable decorative note.
So if you have a hole in the wall behind the bed, you already know where to place the decorative vinyl.
Names and letters work best on the bed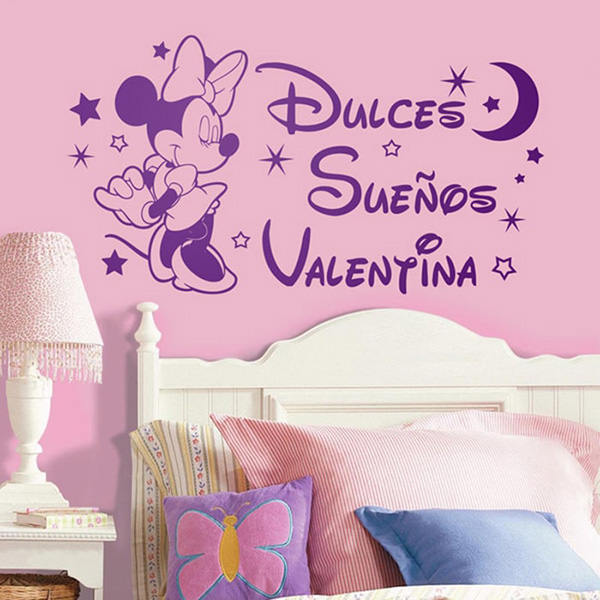 Decorative vinyl adhesive
If you have decided to put a children's vinyl with the name of daughter or son, the head of the bed wins again with a landslide. Especially if it's a common room.
It's great to install two vinyls, one with each name above the headboard of each bed.
If, due to the headboard or the window, you cannot install it on that wall, the side wall with which the bed is glued is also a very good alternative, as we see below in this other bedroom decorated with vinyl:
Decorative vinyl adhesive
And if in this case the room is common, you can put the other vinyl with the other name, right on the wall where the other bed is.
But putting a vinyl with the children's names, either on the headboard or on the wall that supports the bed, always seemed like a great idea. They are perfect.
Let's see more vinyls and where to put them to make them look and decorate.
Do you have a base or a frieze?
Decorative vinyl adhesive
If the bedroom has a baseboard, either wooden or painted, you're in luck.
In this case, the vinyls that are a kit, which are made up of different small vinyls, are perfect above the baseboard.
Above we see a children's bedroom with a base in which a set of vinyl with stars was installed on the wall of the base.
The reason doesn't really matter that much. They can be stars, balloons, clouds, etc. The fact is that there, this type of vinyl is phenomenal.
Let's see more.
Above the crib
Decorative vinyl adhesive
Another place where you can install a vinyl in a child's bedroom is above the crib.
If you have been very careful in decorating your baby's bedroom, you may have noticed that the crib area, with its crib, with a piece of furniture on the ceiling, maybe with a sky above the bed and a rug on the foot, has a special charm, right?
Well, a vinyl above the crib will enhance that charm even more.
Of course, you have to find the right vinyl: there are thousands, but one with clouds and bears like the one we see above these lines would be a total success or you can also put a nice phrase, that the phrases are always motivating and do let us dream, as we see below:
Decorative vinyl adhesive
As if it were a story. Don't tell me you can't find him charming.
In short, there are many, many more, but it is certain that on the top of the crib is a safe bet.
Put a tree
Decorative vinyl adhesive
Don't ask me why, but the vinyls in the trees are the vinyls I've used the most. The vinyls that parents choose the most and the vinyls that are most found in all children's rooms.
It may be because if they are beautiful, as we see above these lines, they are perfect.
Therefore, if you do not know very well what vinyl to install in the children's bedroom, I advise you to take a look at the tree stickers. They are perfect and there are many.
In addition, these vinyls allow us to «play» with them, because we could even install some shelves right on the branches, leave a stuffed animal or a decorative object and pretend to be on the tree. Kids will love it.
Here you can see more ideas to decorate a children's room with trees.
Bet on Batman
Decorative vinyl adhesive
I have to admit that this point is just because I'm a big Batman fan. But I can't help but recommend it.
Whether it's a painting or a vinyl, I like to put a Batman detail in the children's bedrooms. There are many models of Batman vinyls to choose from.
They may be more «adult», others more childish, but what do you want me to tell you? To me, a Batman vinyl always looks good. And if it's on the wall of the headboard, much better.
Decorate the study area
Decorative vinyl adhesive
A nice vinyl in the study area next to the desk can be the perfect place for installation.
The child can see even that more attractive area. It can be a good way to give you a little incentive to study and do your homework, don't you think?
Think about the sea: install a mural
Teleadhesive Mural
The vinyls, to decorate a children's room, are perfect, as we just saw. They give an original note, a small or large decorative accent that adds a lot.
But I have to admit that I like a mural that covers the whole wall much more than a single vinyl.
I find it more decorative and adds more personality to the children's bedroom.
In addition, today we have countless children's murals to find the one that best suits our decorative requirements, so it's always easy to find the right one.
And you, what do you prefer? Vinyl or mural? I read you in the comments. And if you think a friend or family member might like this article, share it. Thanks!
You may also be interested in: 60 ideas to decorate a charming children's bedroom.
Or more ideas with decorative vinyls.