Instagram has become one of the most important social networks in recent times, this application has had quite drastic changes over time, which has significantly improved the application, both in publications and security of accounts. Did you receive a message request on Instagram and couldn't accept to reply to it?, here we will explain the reasons why this happens and how to solve them.
Request a message on Instagram
A message request On Instagram we receive when a person sends us a message that we do not have on our list of followers or followers, and when the message reaches us we will have three options: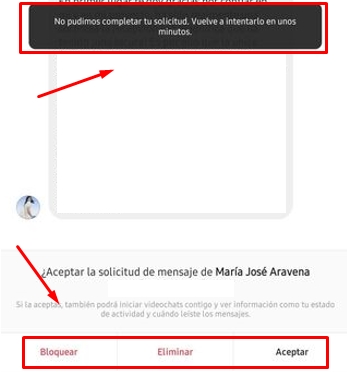 If you block the message, you won't be able to reply to it, and the user won't know what happened, whether you read it or not, because «seen» doesn't appear in message requests, so it might be a good option if you don't want to reply to the message and, in turn, prevent them from contacting you again.
Error trying to accept a message request on Instagram
If you click «Remove«, The message will be deleted without a previous reply or» seen «or» read «appears. This option is quite good if you do not intend to reply to the message sent to you and in turn , remove it completely from your social network, as there will be no trace of that message.
If you accept the message, you will be able to reply to it, only in this way can you send a reply and see «seen» or «read», which means that it may be the only option to be able to communicate with the person who sent the message.
Couldn't accept a message request on Instagram? There are several reasons and we will explain them below.
If you tried to click on one of the options you have for that message that was sent to you, and a message appears stating: «We couldn't complete your request, please try again in a few minutes», means something is failing in the application, which prevents you from accepting, blocking, or deleting the message.
We were unable to complete your Instagram request
Most likely, the issue is associated with Internet connectivity issues, so a good alternative is to try restarting the app or mobile device so that you can restart the connection and try again, which may allow you to complete the message request. depending on what you want.
Another good alternative is to connect to Instagram from a computer, search the inbox for the messages that have been sent to you, and make the desired selection, there should be no problem, as this error usually occurs on mobile devices.
If the problem, even if you restart your internet connection and you tried to do it from a computer, is not resolved, please contact support, as they can provide you with a prompt solution to your problem, the email is : android-support@instagram.com.
Were you unable to accept a message request on Instagram? Write us a comment and we'll help you solve your problem.